Collaborators
Russian Society of Cardiology (RSC) is an all-Russian non-governmental organization uniting more than 6,700 specialists in the field of Cardiology and related medical areas. Nowadays, Russian Society of Cardiology includes 33 sections and 5 working groups chaired by the leading experts in their field of expertise.
The Heart Care Society of Assam, established in 1999 is a non-profit non-government organisation (NGO) having members from all walks of life i9ncluding but not limited to doctors, teachers, advocates, other professional and business personnel, students, social workers and organisations. We, as members, are committed to the purpose of heart care and health care through people involvement and people participation. With only a few members starting the Society at Digboi, Assam, it has grown over the years and has now members spread all over Assam and the neighbouring States. From the very inception, the Society is getting encouragement and support from the Indian Oil Corporation Ltd. (Assam Oil Division), Digboi as a part of the community health project of the Corporation. It is carrying out various educational programmes, workshops, health camps and also training courses for the nursing and paramedical personnel on different aspects of heart care and health care. The Society is presently working from the AOD Hospital of IOC Ltd. Digboi and is managed by an executive committee having Dr. Nirmal K. Bhattacharjee, a reputed and experienced cardiologist as the Founder President of the Society. It has now more than 200 dedicated members from Assam and neighbouring States spreading the message of heart care and health care through preventive measures. Our Activities Health education programmes - in educational and other institutions Public awareness programme - in association with other NGOs Health check-up camps - for early detection of silent diseases Academic & training programmes - for doctors, nurses & paramedics Medical treatment and care - of needy persons whenever possible Aims and Objectives To educate the people and create awareness about heart diseases and their prevention at individual, family, society and national level by holding public awareness programmes. To conduct health education programmes through health talks, meetings, quizzes exhibitions etc. in educational and other institutions. To organize health check-up camps for detecting latent cases of heart diseases and giving appropriate advice for healthy living. To hold meetings, conferences, seminars and other academic activities for imparting knowledge in preventive aspects of heart care to the doctors, nurses, paramedics and others. To print, publish, purchase, distribute or sell books, pamphlets, periodicals and other educational materials for wide dissemination of information on heart care. To co-operate with other associations, societies or individuals to promote the objectives of the Society. To liaise with other organizations and institutions for providing help to the needy patients. To encourage formation of chapters/branches of the Society at local/state/regional level or to select representatives, correspondents whether in the State or elsewhere for promoting all or any of the objectives of the Society.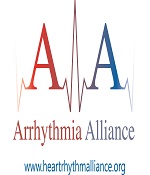 Arrhythmia Alliance (A-A): working together to improve the diagnosis, treatment and quality of life for all those affected by arrhythmias. A-A is a coalition of charities, patient groups, patients, carers, medical groups and allied professionals. Although these groups remain independent, they work together under the A-A umbrella to promote timely and effective diagnosis and treatment of arrhythmias.